Education Secretary
– reverse the 50% funding cut to arts subjects in Higher Education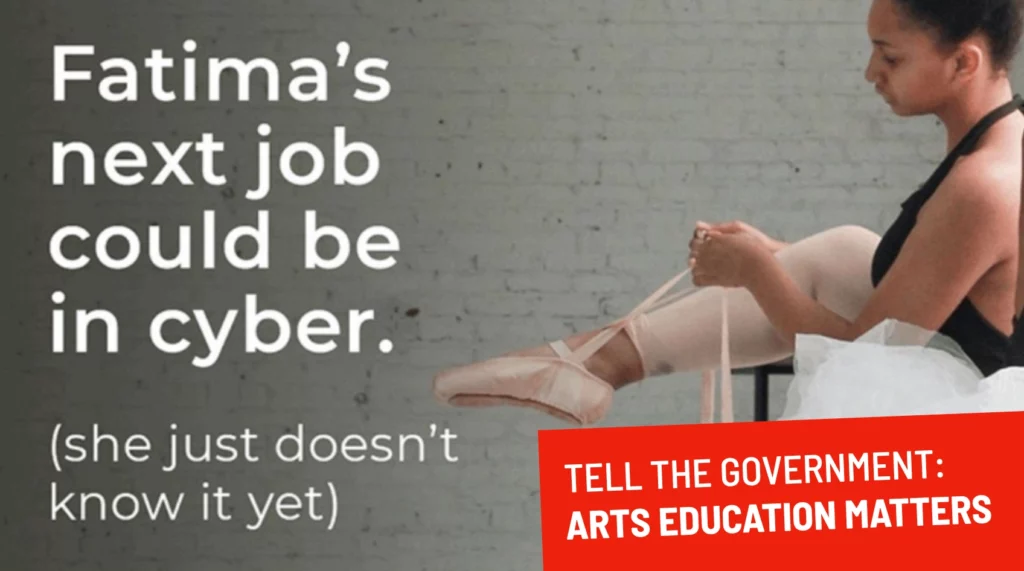 The Government has imposed a 50% funding cut to arts subjects at higher education (HE) level in England.
The Office for Students, which distributes Government funding to support HE providers, said:
"The Government proposes that the courses that are not among its strategic priorities – covering subjects in music, dance, drama and performing arts; art and design; media studies; and archaeology – are to be subject to a reduction of 50 percent."
In his guidance letter to the OfS, the former Education Secretary Gavin Williamson said:
"The OfS should reprioritise funding towards the provision of high-cost, high-value subjects … We would then potentially seek further reductions in future years."
This is an attack on the future of UK arts, the creative potential of the next generation, and the people who deliver our world-class arts courses. Rather than segregating and devaluing the arts in this way, the Government should maintain its important investment in creative skills, ensuring that arts courses are widely accessible and properly supported.
We urge the Education Secretary Gillian Keegan to reissue guidance to the Office for Students:
Reversing the Government's 50% cut to high-cost subject funding of arts ('C1.2') subjects
Recognising the value of arts subjects in education and of the arts in society
Committing to sustained funding for HE providers so they can continue to deliver world-class arts courses
Most funding for arts courses comes from tuition fees, but OfS funding is important for many HE providers to meet the costs of teaching. This cut could seriously affect the viability of courses. The Musicians' Union has reacted with "horror" at the plans, saying they will be "catastrophic for music provision at HE level", and that "the notice given of this cut is far too short to enable HE institutions to plan for September". Equity has called it "another government attack on arts education after years of deprioritising creative subjects in our schools", warning that it could "block a route into the creative industries for working-class and other marginalised groups".
Arts education SHOULD be among the Government's strategic priorities. The arts enrich our lives, our communities and our economy too. In lockdown, millions turned to them to support their mental health. Before the pandemic, the creative industries were growing five times faster than the UK economy as a whole and generating over £111 billion a year. We risk losing these benefits without proper support for the creative skills underpinning them.
This is a targeted attack on arts subjects specifically. The OfS admits that "the government does not consider them to be as strategically important as other high-cost disciplines", which are due to receive a 12% increase in funding.
When public backlash caused the Government to withdraw its 'Fatima the ballerina' advert, Ministers claimed they valued the arts and were 'here for culture'. If that's the case, the Government must stop this attack on the arts in Higher Education, value creative skills and fund arts subjects properly.
Update 11/06/2021:
YouGov / Public Campaign for the Arts poll finds a majority of British adults think students should be able to choose to study creative and performing arts courses in HE, and that Government funding for these courses should be maintained.
Read more →
Tell the Government – arts education matters:
By submitting information you are agreeing to our 
privacy policy
and
T&Cs
, and to CFTA
 keeping you informed about campaigns (you can unsubscribe at any time).