Pokuaa Osei, from the Early Help & Prevention Service at London Borough of Haringey, was this morning presented with the Hearts For The Arts award for Best Local Authority Arts Champion – Officer, by Samuel West, Chair of the National Campaign for the Arts.
Pokuaa has worked with FamilyFirstNights (FFN) at Mousetrap Theatre Projects for 11 years. FFN is a unique annual summer programme that offers theatre tickets at £6 to low income and disadvantaged families and provides an enjoyable, worry-free and inclusive experience. Throughout the years, Pokuaa has worked enthusiastically to support her families through the application process of acquiring theatre tickets. Her leadership and intervention has evidently changed the lives of many young people and brought families together by participating in the FFN programme. She has made a positive impact within her department and her community; supporting and encouraging families and individuals to step out of their 'comfort zone' to experience all aspects of the arts.
The Hearts For The Arts Awards are given to thank and celebrate the work of Councils, Councillors and Council Officers who have overcome financial challenges to ensure the arts stay at the centre of community life.  This wonderful awards ceremony is a chance for us to publicly say that we love what you are doing.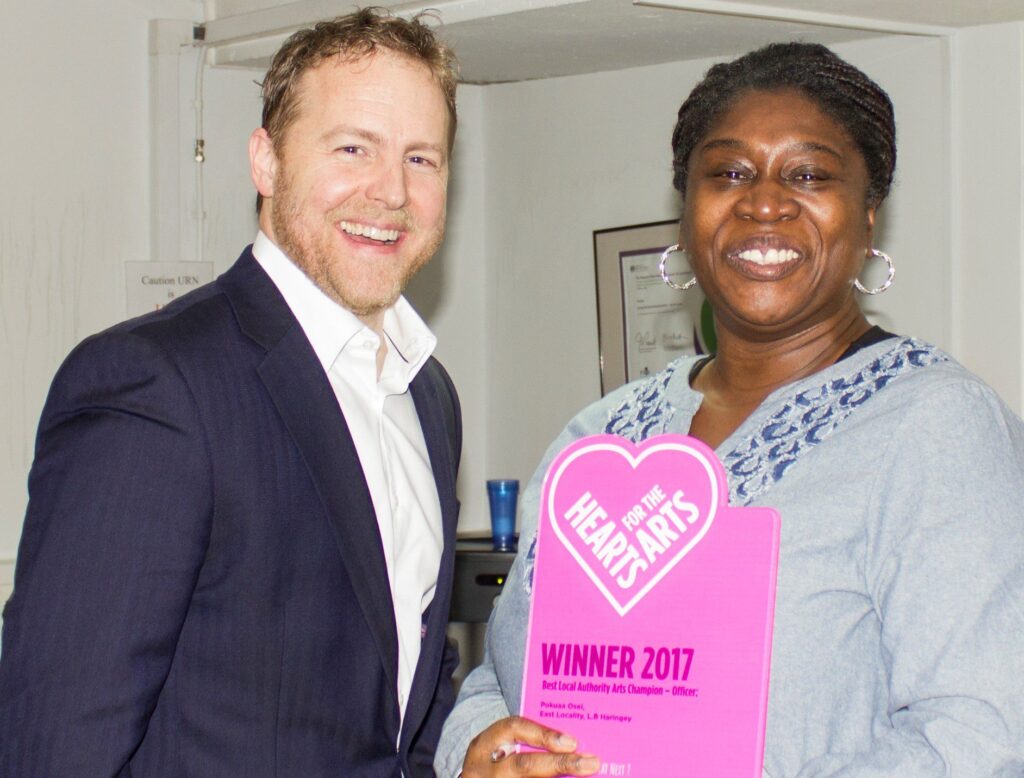 Samuel West, Chair of the NCA, said:
"Live theatre can be a life-changing experience for children and young people but the expense puts many people off. Pokuaa has worked tirelessly to help ensure that theatre remains accessible and affordable to all."
Cabinet member for Adult Social Care and culture, Cllr Bernice Vanier said:
"We are thrilled that the hard work and dedication Pokuaa has put in to support her local community has been recognised with the Arts Champion award. Pokuaa has enriched the lives of so many young people and families in Haringey and should rightly be proud of her achievements."
Nominations for the Hearts For The Arts awards 2018 are open until the 20th of November.